Name:
Naoki
Character's Race:
Saiyan
Powerlevel:
500
Zenni:
500
Alignment:
Neutral
Appearance:
Naoki is quite tall for his age, he is 2.29 meters tall and he weighs less then a hundred and twenty pounds. The reason for why he is so light weighted is because he really doesn't eat anything, in his past he would usually eat Capsules that provide him with the vitamins that he needs such as Iron, Calcium and such. Despite his light weighted self he is slightly muscular from the days where he would train his body. His skin is quite pale, most likely because he doesn't really like to go outside and so he doesn't get tanned. He also has a Tattoo on the upper left of his chest which is worn only by slaves, which everybody recognizes it.
Naoki has reddish-pinkish hair that comes down with bangs to the nose area that. The hair combining over to a right way in a spike sort of wait, creating a lot of ends the hair; it is easily notable that the hair isn't the most tamable. The eyes are blue. Around his neck is what seems to be a collar, colored red with white iron. On top of his head is a hat that he usually has on which usually distracts the fact that his hair is a type of a pink color.
He wears a short sleeved white colored shirt, he usually doesn't button the shirt which shows off his slightly muscular chest however there is a hole on top of his bellybutton which is buttoned up. The shirt isn't really anything special or out of this world.
Naoki wears dark blue colored jeans that practically hide away his feet. The zipper seems to be unzipped all the time but it really isn't the zipper it's just how the pair of jeans is supposed to look like, the jeans are accompanied by a type of belt. A dark colored belt with white colored outlining that hangs around his hips and behind it seems to be falling off of Naoki's figure. Naoki also wear's brown colored gloves since his hands seem to be exhausted from the years of training that they had received. Naoki doesn't wear any shoes or socks but they are quite clean despite the fact that they should be dirty from moving on without shoes or something to cover the feet from the ground.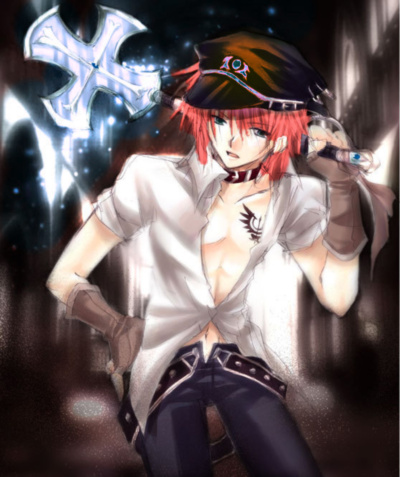 Age:
19
Height:
2.29 meters
Hair Color:
Reddish-Pink
Eye Color:
Blue
Characters Techniques:
10 Finger Expanding Bullets
Naoki charges Ki unto the tip of his fingers and there appears a little red dot on the tip. When released they'll go toward the opponent at a average speed and if they hit something they expand themselves and then self destruct. Naoki can shoot one of them at a time if he wished or make one power fuller then the others thus creating a bigger bang.
Planet you want to start on:
Planet Earth
Characters story:
Naoki was born as a Saiyan, however a few months after he was born he was sent to a planet in a space ship. That planet was Namek. However as he was sleeping in the space ship that was going after Namek to conquer he was ambushed in his sleep. Even if he was awake he would've still gotten captured seeing as he was nothing more then a child. The ones who had ambushed him are a type of alien collector, which captures people from all over the galaxy and sends them into a arena to fight and make money off of them. He wasn't fighting at the start seeing as he was nothing but a infant and so he was raised until he was at a more appropriate age where he might show some fight in the upcoming battles in the near future.
When Naoki turned to the age of 10, there he had began to fight. People were cheering for him and some were booing him on his first fight, althought he doesn't quite remember who he is or what he is, his Saiyan senses kicked in when he fought and enabled him to win his first fight. Years passed by, Naoki continued to fight at the arena, getting more and more famous and training more and more. Naoki began to fight differently then others which usually confused them seeing as they had no idea on what he was doing but he kept on winning. One day, Naoki escaped. He had no idea how he escaped seeing as everything around him went dark, he found himself on earth.
BB